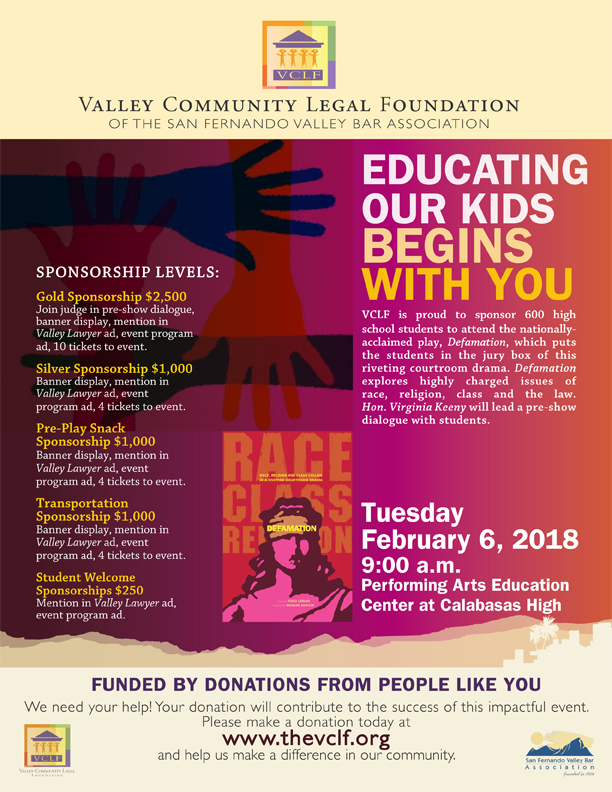 DONATE
The VCLF is proud to present once again "DEFAMATION," a theatrical, educational, and unique interactive diversity program. The play takes the form of an old-fashioned courtroom drama, but with a twist: the audience is the jury. The premise being a civil suit, the deliberations are led by the presiding judge. For 15 minutes, the judge leads the deliberation.  Jurors stand to explain and advocate their reasons for their vote. Questions are raised by the 'undecideds.'  In a case without a smoking gun, jurors are challenged to defend their reasoning – a challenge made more demanding when issues of race, class, religion, and gender are raised. When a plethora of views has been heard, the judge polls the audience and this final vote decides the outcome of the trial.
As Diana Ladd, editor at the Jackson Free Press noted, "Much like the film Crash,' the play has all sorts of circular prejudice messages wound up in it and some powerful lessons about ingrained racism most of us never see, …" And reviewer for Mindful Metropolis, Erik Harris, highly recommended the play after leaving " the theater with [her] notions shaken and twisted."
The VCLF is proud to present this opportunity to high school students from a variety of schools in the San Fernando Valley.