July 2016
By Laurence Kaldor, President of the VCLF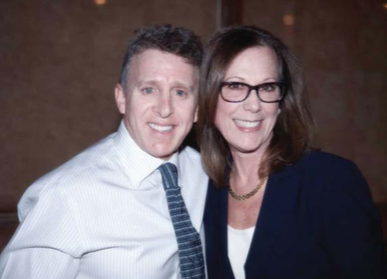 I'M NOT SURE WHAT I AM MORE EXCITED ABOUT honoring Judge Rosenblatt's longtime service to the Valley Community Legal Foundation (VCLF) of the San Fernando Valley Bar Assocation or launching our first ever Virtual Gala! The good news for me is that we get to do both!
Many of you are probably thinking, "What's a virtual gala?" Well, let me explain… Our mission at the VCLF (the charitable arm of the Valley Bar) is to better our community by providing funding for programs, scholarships, and opportunities to deserving
recipients. To do that,
we raise money. To raise
money, we put on events.
Gala Award ceremonies
are a common method of
fundraising, and just as the
world is going digital, so too,
is our Gala!
The Virtual Gala is a
way for people in the legal
community to help us raise
money in a fun and exciting
way, and what could be
more fun than experiencing
a Gala from the comfort
of your own computer,
phone or tablet. The Virtual Gala does away with the rubber chicken dinner, and you can participate in a fancy dinner jacket or in the comfort of a t-shirt and your favorite sweat pants—because there is no jacket required! We're still offering a silent auction (online), raffle prizes, and goodie bags (delivered to your door), as well as lots of other ways to have fun and get involved.
We are also paying homage to a very important person. Judge Michelle Rosenblatt is one of the most respected judges to have served on the bench in the greater Los Angeles area for the past twenty-three years. She is a delightful and kind person, gifted with a sound legal mind. Now, as she moves on to the next stage of her career, we are honoring her for her efforts in supporting the VCLF's mission.
As a leading board member of the VCLF for more than fourteen years, Judge Rosenblatt has spent countless hours of her spare time working on committees, projects and events. Her work has resulted in helping to raise tens of thousands of dollars and thereby improving the lives and circumstances of many less fortunate members of the San Fernando Valley community.
I hope you read Terri Peckinpaugh's (click on pdf version) touching and artful tribute to Judge Rosenblatt. I hope you thank our sponsors by supporting them. I hope you visit the silent auction, bidding high and often. And, more than anything else, I hope you see it in your hearts to honor the efforts of people like Judge Michelle Rosenblatt—who have done so much in the past—by donating to the VCLF and helping us continue in our mission.
But now, as is appropriate for a Virtual Gala, please raise a glass and join me in a toast to the 2016 recipient of the prestigious Pearl F. Vogal President's Award, the most Honorable Judge Michelle Rosenblatt—a giant in the hearts of our community and a lady with a giant heart herself.